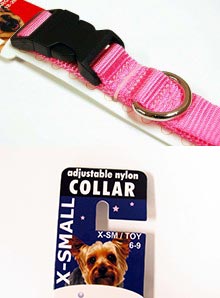 The three most common dog collar materials are nylon, leather, and metal. Decisions should be based more on what your dog will find comfortable and what is best for training. Too often people make expensive purchases on products that are not appropriate for their dog, simply because they like the look. Knowing your dog will help you to make a decision.
Metal/Chain leashes are ideal for dogs who have a chewing problem. A dog will not bite these leashes. Also, these leashes work well for large, aggressive/energetic dogs. Chain leashes are strong, and there is almost no chance of them breaking.
Leather straps have the most comfortable feel out of all leashes, but this product requires the most care. As a result of being frequently used, every six months or so you will want to reapply leather conditioners. The leashes are not bite proof, but they are more resistant than nylon leashes.
Nylon dog leashes are the most popular on the market, and this is because of their durability and cost. Inclement weather will not destroy nylon (it can get wet without being damaged). The only drawback to this material is that it is easily chewed through.
When shopping for wholesale dog leashes, make sure to look at all your different options. Do not make this decision haphazardly. Wholesale leases and wholesale pet collars can be found in various types, styles, and materials, so make sure you get the perfect product for you and your dog.