When it comes to pet collars and leashes, there are many different options for materials. Conventional materials are leather, nylon, and cotton. In recent years, a newer type of cotton is being used because of the benefits it provides the Earth and your animals. Your dogs will love organic cotton leashes and so will you. Below, we will go over several reasons why you might want to consider purchasing organic cotton dog leashes and pet collars.
Organic cotton is softer than regular cotton. This will make your dog happy as well as your hands. Organic cotton leashes and collars can help to make extended walks more enjoyable.
Organic cotton is sustainably made, and regular cotton is not. Cotton is grown and harvested in ways that do not care for the planet. For instance, pesticides are frequently used in the cotton field. Organic cotton is sustainably grown.
Exposure to organic cotton can be healthier for you and your pet. Because of the way in which cotton is grown, harvested, and processed, the final product can potentially lead to a less healthy life. Organic cotton can be a healthier choice.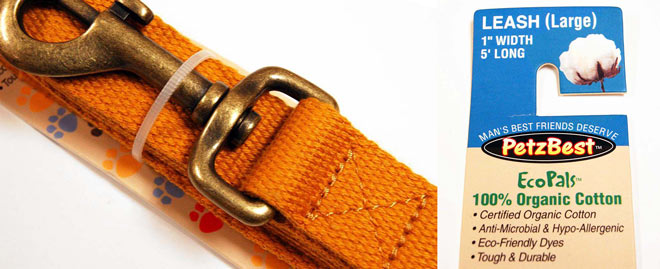 We sell wholesale organic cotton pet collars and leashes. We custom design all products to meet your businesses exact standard and desires.